The Ooni of Ife, Oba Adeyeye Ogunwusi,recently granted an interview to Channels Television where he touched on several issues especially the need to focus on solid minerals exploitation and Tourism as the way forward owing to the dwindling Global Oil and Gas prices.He also pointedly stated that he sources his highly valued Beads from Benin City-statement that should make the Edo man raise his head high with pride.Here is the transcript of his interview should make for an interesting read;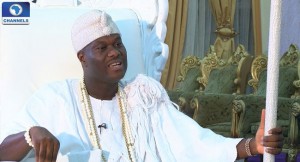 The Ooni of Ife, Oba Adeyeye Ogunwusi, says Ile Ife will be the take-off point of the new Nigerian economy in a post oil and gas era.
Oba Ogunwusi expressed optimism that an exploration of the huge solid minerals in the state, especially gold, would give an unprecedented boost to the nation's economy and shift it away from volatility of the crude oil market.
He stressed the need for focus to shift from oil and gas to other solid minerals in Nigerian states.
"All over the country solid minerals are everywhere. But we haven't even exploited it.
"Indeed, we can survive without oil and gas. If we don't have oil and gas, we can survive because the mysteries in this land are more than anywhere in the world.
"There is a huge potential in Ife. There is no solid mineral we don't have. We have gold, Timberlight Gemstone… We have very large scale deposit of all those materials and I like to practice what I preach," the monarch told Modele Sarafa-Yusuf on Channels Television's programme, 'View From The Top'.
The Oba said that he was already working with the State and Federal Governments to promote solid minerals, tourism and agriculture to keep the youths engaged and promote the local economy.
He urged the leaders to lead by personal example, advocating the use of made in Nigeria goods.
"The beads that I am wearing, I went as far as Benin Kingdom to go an exploit the beads. People don't wear it any longer but it is made in Nigeria and I am proud to say it. The gold in between it, I took it from Mokuru waters in Ife and it is one of the most purified gold in the world. It is a 23.9 karat gold, raw. We just decided to do surface mining.
"We have it in Nigeria. We have it in Ife, Ilesa and in Niger State. All these things are just littered everywhere. But there is nobody to harness and put all those structures in place.
"We have focused too much on oil and gas.
"So I am very proud to say today that what I am wearing is made in Nigeria hundred per cent. This throne, the shoe that I am wearing are made in Nigeria. It is that bad, the soap I use is made in Ile Ife. That is the only way Nigerian economy can grow. So we must lead by example," the Ooni of Ife stressed.
Credit:Channels
Follow us on twitter @MidWest_Journo
Copyright 2019 The MidWest Journal. Permission to use quotations from this article is granted subject to appropriate credit being given to www.themidwestjournal.com as the source.