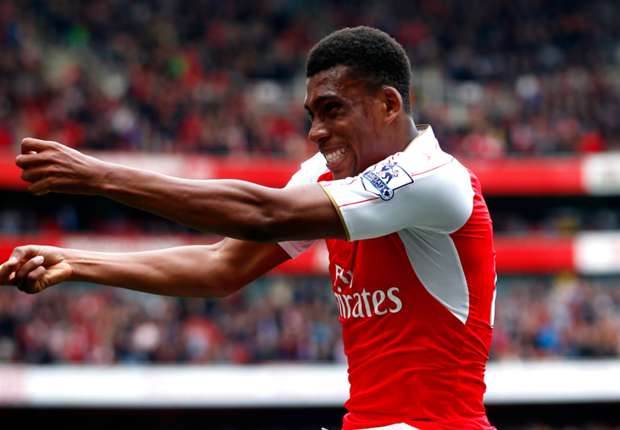 Getty Images
The newly capped Nigeria international says the hand move he acts out after scoring was inspired by a conversation with his friends regarding his squad number
Arsenal forward Alex Iwobi has admitted his goal celebration is "crazy" but has vowed not to change it.
The Nigeria international has scored twice for the north Londoners since breaking into the first-team, opening his account against Everton before repeating the feat in the 4-0 win over Watford.
Inspired by his shirt number, 45, and a conversation with his friends, Iwobi revealed his unusual gun-shooting hand signal was unplanned but previously discussed.
"I can't describe the feeling (of scoring), I started losing my head and the celebration… I don't know where that came from, but I'm sticking with it now!" he told Arsenal Player.
"I already felt at home (in the team) but that goal made me a bit more confident, made me try a few more things and made me feel a bit more relaxed so I was happy to get it."
After manager Arsene Wenger handed the 19-year-old his first start for the club against Barcelona at the Camp Nou, Iwobi has settled well in the first-team.
The youngster admits he was delighted to notch his first goal for the club and says his animated moves were purely reactionary.
He added: "The best way to describe it is that it's my number (45), and the Gunners (are) Arsenal.
"I was just excited and also my friends told me to do something crazy, so it was for them."
goal.com
Follow us on twitter @MidWest_Journo
Copyright 2019 The MidWest Journal. Permission to use quotations from this article is granted subject to appropriate credit being given to www.themidwestjournal.com as the source.